A pattern of a girl's skirt is provided.
You are advised to study the sketches, the question paper and lay out carefully before you begin the test.
MATERIALS PROVIDEDPattern piecesSkirt frontSkirt backPocketsFront yokeLight weight cotton fabric 50cm by 90cm wide.Sewing thread to match the fabric
THE TESTUsing the materials provided, cut and make the right half of the skirt to show the following processes.The preparation of the gathers on the skirt front piece.Attachment of yoke piece to the skirt front piece using a neatened overlaid seam. Use loop stitches.Attachment of front pocket piece to the skirt front and back pocket piece to the skirt back.The making of an unneatened open seam at the side above and below the pocket mouth.The joining of the pocket bag seam (do not neaten)Use preparation of the skirt hem and slip hemming it. At the end of the examination, firmly sew onto your work on a single fabric a label bearing your Name and admission Number.
Remove the needles and pins from your work then fold it neatly.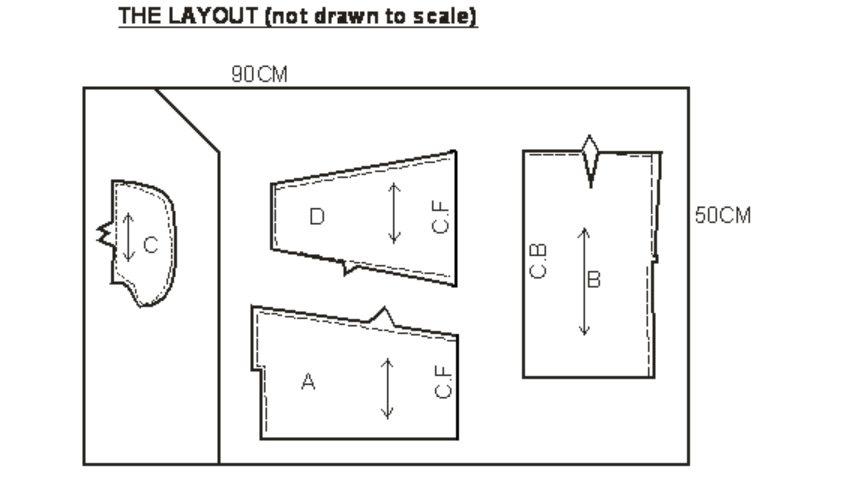 Marking Scheme
1. PRESENTATIONFolding the article neatlyFirmly sewn on label on single fabricPins, needles and unnecessary tacking removed from workClean and press
2. CUTTING OUTCentre front and centre back straightGood cutting and grain line on:Skirt frontSkirt backPocketFront yokeIdentification of right half of skirt
3. BACK DARTAccuracy in length (½) width(½)Stitchery tapering to a point (½)Correct tension (½ ) size (½) straight (½ )Flat on both sides R.S. (½) W.S (½)Dart secured at the point (1)Pressed towards the centre front (1)
4. PREPARATION OF GATHERSCorrect position (½) (lower front piece)Well distributed(½)Well held in position (½)Correct stitches (Gathering stitches) (½)
5. ATTACHING THE YOKEFlat (½)Folded edge of yoke (½) placed on F.L of front skirt (½)Stitchery 2mm away from fold (½)Even distribution of gathers (½)Stitchery – straight (½) correct tension (½) size (½)Trimming of seam turning to "¼" (½)Neatening of seam allowance using loop stitches (1) correct tension of loop stitches (½)
6. ATTACHING POCKET INSEAMAccurate use of F.L when attaching pocket pieces to skirt front (½) back (½)Correct position (1)Correct shape (1) and size (1)Reinforcing of pocket mouth (1)Correct width of mouth ½ inches (1)
7. SIDE SEAM (UNNEATENED)Accurate use of the F.L (1)Pressing seam open (1)Untrimmed (1) and unneatened (1) above and below the pocket mouth
8. JOINING OF POCKET BAGJoining fitting lines together (1)Pocket facing down wards (1)Firmly joined using open seam (½) edges trimmed (½)
9. HEMMING SKIRT BACK (SLIP HEMMING)Flat (1)StitcheryEven stitches (½)Slip hemming (½) correct size (1) correct position (1)Slip hemming back skirt (½) half of the hem (½ )Correct finished width 1 inch (1)dy